By Martin Smith -- 24 January 2023
Twenty-three enthusiasts from the Club and the Library Group filled to capacity our new home match/club event venue – the café at St.Thomas Church, off Streatham Hill – for a six-round rapid play tournament spread over two evenings on the 3rd and 10th January. Fantastic success as Tournament Controller Alan Romeril ran the event with calm efficiency: each round kicking off like clockwork at half hour past the hour.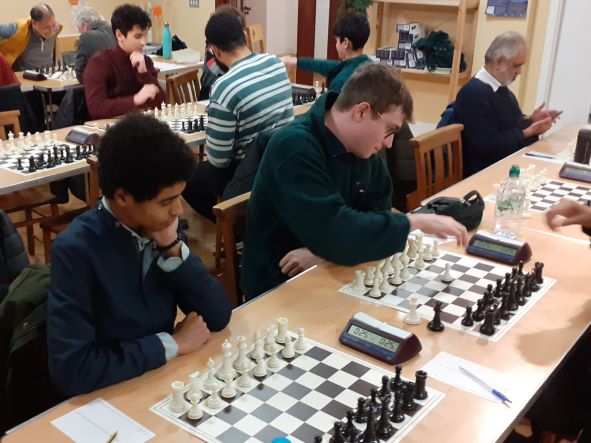 There was a great vibe as players of all strengths battled it out for top honours. New blood challenged old hands. Youth was unfazed by experience. Games went against ratings to upset the apple cart, and it went to the wire… Club heavy-weight Graham Keane on 4.5 points had to win his last round game to make him clear winner.
It was a tense affair as Graham, with black, went for it, building up a storming position against talented junior Amar Adatia, who was giving away nearly 500 rating points. Graham surrounded Amar's castled king on the king's side white squares: a pawn on f3, his Queen on h3. But last-ditch defence staved off the mate on g2 (White Queen on f1!). The board now surrounded by spectators, the black pieces circled to land the knock-out, but resolute defence held the line! Apparently on the ropes White co-ordinated his rooks in the centre, and now Black's own first rank looked vulnerable. White pawns were dropping. The clock was ominously ticking! Draw agreed!
A grand-stand finish to a memorable evening, and thanks to everyone who took part. Applause all round at the end for Amar who finished 3rd equal (on 4.5 points) with new member (but experienced player) Robin Sarfas; and extra applause for Amar from the author of this note who, thanks to Amar's sterling defence, found himself a fortunate joint winner with Graham on 5 points. Had there been a formal tie-break top honours would have gone to Graham as he decisively won our 4th round game.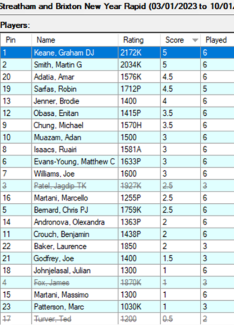 It was great to see so many new faces at the first of what we hope will be many equally enjoyable club events at St.Thomas Café. It is an excellent venue, quiet with good lighting and facilities. We have since held another 20-player event, which confirmed this assessment: we comfortably hosted a 10-board match on the 17th January against Kingston CC in the semi-final of the Surrey County Alexander Cup. Sadly we went down 2.5