Chess during the pandemic
Face to face chess is gradually returning to normal, and Streatham Chess Club is also still going strong online!
Everyone is welcome to join in our online activities, and they are all free with no club membership fees charged.
See our home page for more details.
---
Anyone can join our Tuesday afternoon Streatham Library chess group and there's nothing to pay. If it's full-on, league chess that you want, you can choose one of two membership options to suit you – annual subscription or game fee. As an annual subscription member you pay just half of the full subscription in your first season. If you only want to play a few games for us the best option for you may be to pay on a game-by-game basis. If you are new to competitive chess, you can normally play up to three games for free to try it out and make sure it suits you.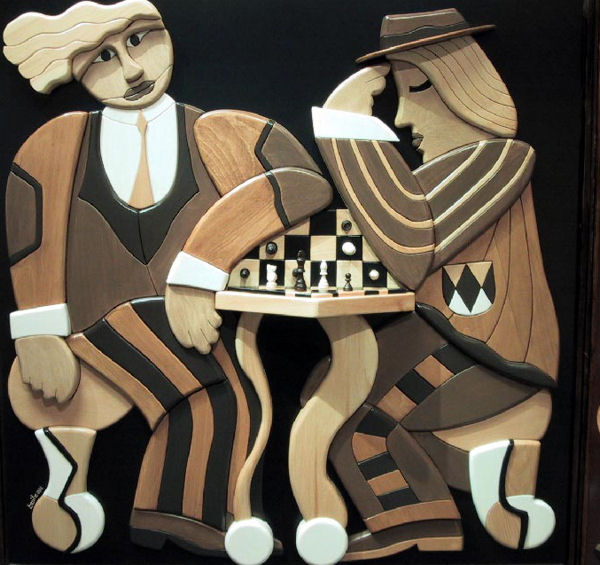 Two men playing chess – wood sculpture by the Canadian artist Alain Boileau.
Subscription rates for the 2019-2020 season are:
£45 full membership.
£22.50 first year of membership.
£22.50 concessionary rate (available on a discretionary basis to student, unwaged and retired members).
If you prefer to pay on a game-by-game basis, the cost is £4.50 per game.
As a club member you will be qualified to play for our league teams, subject to selection, and you will be able to participate in club competitions and other members-only events.
To play regular competitive chess in England you will also need to become a member of the English Chess Federation (ECF): Bronze membership costs £18 for a year - see here for further information.
If you're thinking of joining Streatham Chess Club or would like to know more about membership, please contact one of our club officers.