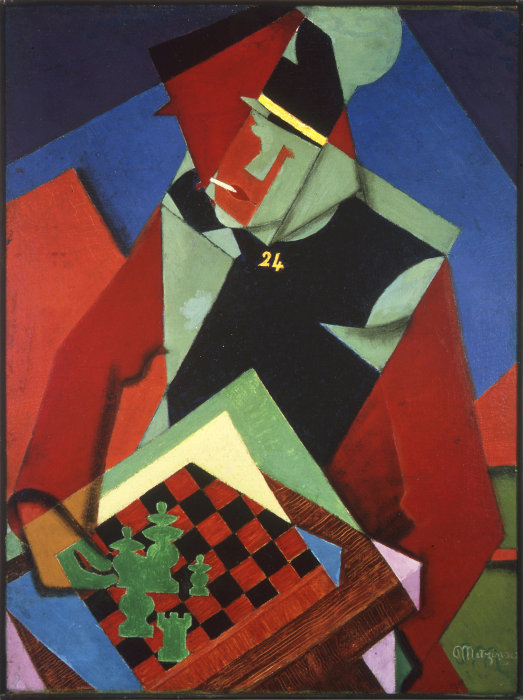 Jean Metzinger, Soldat jouant aux échecs (Soldier at a Game of Chess)
Chess gradually emerges from pandemic restrictions
As of November 3rd, face-to-face chess is gradually restarting.
The Streatham Library chess group is meeting again on Tuesday afternoons, at the same time and place as before the pandemic. Covid safety precautions are in place. See website for further information.
Some clubs and leagues have already started playing over the board again, while others will be resuming in the near future. Currently S&BCC's home venue at Streatham Library is available for the casual Tuesday afternoon sessions mentioned above, but availability for evening events outside of normal library opening hours is still to be determined. However this is likely to change very soon, so keep an eye out for further updates.
While face to face chess fully recovers, Streatham and Brixton Chess Club will remain active as follows:
We will continue to maintain teams in online leagues.
We will continue with friendly matches online and/or face to face at away venues.
We will continue to hold internal tournaments both informal and more serious - online and/or face-to-face as and when that becomes possible.
We will be holding a series of special events to mark our 150th Anniversary Year.
Membership fees will start up again as things get back to normal.
Getting started with online chess
To get started playing with clubmates and in club-organised events, do the following:
1) Create an account on lichess.org
Register with lichess (https://lichess.org/), and create an online user name (if possible one that other members will be able to easily recognize). You can start playing casual games straightaway.
2) Join our online club
Join our lichess online club by visiting https://lichess.org/team/streatham–brixton-chess-club and hit 'Join'. Note that it might take a day or so for your membership request to be processed by club officers.
Joining the online group will help you find fellow members and enable you to play in club-only events.
Keep an eye on the club's lichess forum: https://lichess.org/forum/team-streatham–brixton-chess-club
Here we will post messages about what will be happening online for our members.
3) Mobile apps
Once you are all set up on lichess you might want to get a mobile app. These are available in the normal Apple and Google app stores. Some information about the mobile apps can be found here: https://lichess.org/mobile
Be aware that not all lichess features can be accessed via the apps, so you may prefer to play using the lichess website, even when using a phone or tablet.
---
Welcome
Welcome – you've arrived at Streatham & Brixton Chess Club's website. We hope you'll take a few moments to find out more about us – we're a lively chess club with a fast-growing membership and we provide opportunities for chess players of all abilities.
We're keen to attract new players of all kinds: experienced players who are looking for serious competitive chess, casual players who want to play friendly social chess, and newcomers to the game who want to develop their chess skills.
We offer one of the best-value membership packages in London with a special reduced rate for the first year of membership. If all you want is to play ungraded games of friendly chess, you won't have to pay anything at all.
So read on to learn a little more about us, where we play and how to join. Feel free to simply drop by at one our Tuesday sessions at Streatham Library, or get in touch for more information on the club.

---
Latest Articles
How to get your copy of our 150-year History; and access the book's Historic Games Collection

We play another 'heritage' match, face to face, with our old friends South Norwood CC.

Bank Holiday Monday 31 May - the club meets face to face again.