By James Toon -- 17 March 2023
The Sligo Spring Tournament is one of Ireland's premier chess events. It is supported by the Irish Chess Union. It has generous commercial sponsorship and this enables the organisers to provide quality wooden sets and boards, the latest DGT 3000 clocks, and live streaming of all games in the top section.
I entered the event in 2022 – I think this was its first year. I did so because the event was FIDE-rated and also I had not been to this part of Ireland before. Sligo is an interesting city, surrounded by hills and set in beautiful countryside.
The main players in 2022 were GM Alex Baburin (Ireland's only GM) and the Ukrainian WGM Evgeniya Doluhanova. The top section (the Masters: minimum rating 1800) was quite small. Only 14 entrants. The lower sections were much larger. I was 7/14 in the starting rank, and also 7/14 in the finishing rank, scoring 2.5/5 against opposition rated 1926 on average. So that was a par result, although it didn't do much for my rating. The highlight for me was winning the Best Game award (sadly no money came with this) for a round 1 victory over Dylan Mize featuring a queen sacrifice (after 33…Bd4 in the diagram below) that would have forced a two-bishop mate.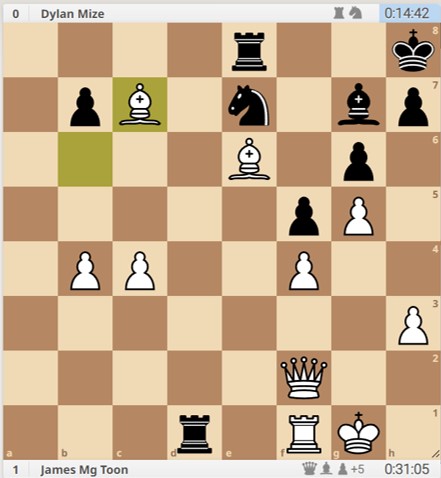 Doluhanova won the event with 4.5/5, ahead of Baburin on 3.5/5. His playing style is very solid, but he conceded too many draws to challenge for top spot. Doluhanova is much more aggressive player. I actually kept pace with her in my round 2 game before a tactical oversight brought me down.
Overall it was a positive experience so I entered the event again in 2023. The venue moved from Sligo City itself to the Diamond Coast Hotel in the coastal resort of Enniscrone. This time I booked accommodation at the venue itself, something I had omitted to do in 2022. The Masters was larger this time – 22 players, Baburin again, three Ukrainians (Doluhanova and two IMs), and one other English player, CM Jonathan Pein, son of the more famous Malcolm Pein.
My starting rank was 13/22, just below halfway, so inevitably it was going to be a tough game in round 1, when I was again paired against Doluhanovan (2312). This time I had white. I thought my best chance was to complicate matters so I played the King's Gambit. This is an opening I know well, and I thought she probably would not face it very often in the rarefied atmosphere of top international events. I got a good position from the opening, and this was validated by the computer later on, but I lost my way in the middlegame and had to concede. I put it down to the attritional and psychological effect of playing a much stronger opponent.
Round 2 was easier, black against the Scottish player Chris James (1877). He played the English against me, the Botvinnik variation recommended in a number of repertoire books by Kosten, Marin, and more recently Simon Williams in 'The Iron English'. I became more confident during the game when I saw a number of good moves he could have played but didn't. Despite one inaccuracy (which he didn't exploit), I obtained an active position and won fairly comfortably in the end.
In round 3, I was paired against another lower-rated opponent, the Irish junior Andrey Ivanov (1815) who was born in 2011. Mindful of the advice I had received from an online spectator (Martin Smith), who said "Don't play the King's Gambit this time!", I opened with 1.d4 and 2.Nf3. I knew that Ivanov was a tactical player, and thought something boring and positional was the best strategy. Sure enough, he sacrificed a pawn for inadequate compensation, and I ground out the victory without too much trouble.
The draw for each round was published early enough for me to prepare against my opponents. Usually this didn't work as they departed from their repertoire and I had to think for myself. But the groundwork paid off handsomely in round 4 (in action below) when I was black against the Spanish CM Juan Ramon Rodriguez Fernandez (2152).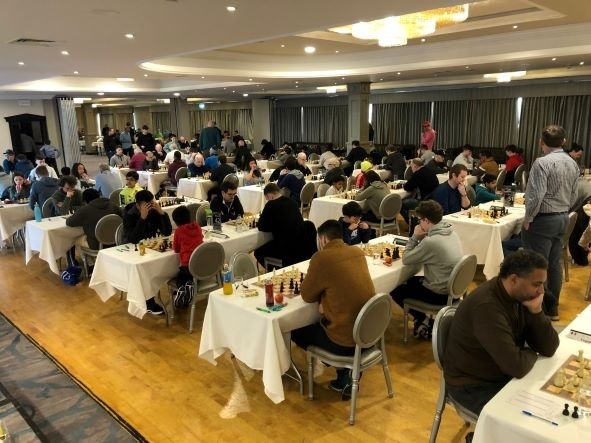 He played the Reti with 1.Nf3 and 2.c4. My line against this involves pushing the d-pawn to d4, supporting it with a knight on c6, constructing a pawn centre and developing quickly. The position at move 10 was one that I had on the computer some hours before the game started. The online spectator was later kind enough to describe my opening play as "Cute." I was better throughout, but could not find a win, and eventually I was happy to accept an offer of a draw in a level rook ending. This was my best game of the tournament. I was really pleased afterwards when my opponent lugubriously remarked, "You played the opening like a master. I got nothing at all from the position." Thank you Stockfish!
Things took a dramatic turn for the worse in round 5 when I was paired against the Ukrainian IM Oleg Gubanov (2266). What happened during this game – and the circumstances that allowed it – ensured that I will not be playing in Sligo in 2024, or indeed any Irish tournament again.
The law on smoking is less restrictive in Ireland than in the UK. Smoking is generally not permitted indoors in public places but there are some specific exemptions, including designated areas in hotels. For this event the organisers decided that the playing area would include an adjacent smaller room where players were allowed to smoke while the round was in progress. This did not affect me in rounds 1 to 4, but Gubanov turned out to be a chain smoker. He left the board at least twice, maybe three times, during the opening phase to go next door for a smoke. When he came back, his whole being was permeated with smoking fumes, leaving me with the novel and unpleasant experience of passive smoking at the board. I soon developed a headache and was unable to concentrate. I went and spoke to the arbiter about this, but there was nothing he could do as my opponent was acting within the tournament rules.
Things went from bad to worse when Gubanov adopted the tactic of banging out his reply to my moves immediately without writing my move down first. I was not aware of this at the time but the FIDE Laws of Chess do permit this. The only requirement is to write down your own move before you make your next move. This upset me because I am used to the etiquette (universal in English chess as far as I can see) of automatically writing down your opponent's move as soon as it appears on the board.
Before long I wanted to be anywhere else except playing this game. My play was superficial, and my position steadily worsened until I was actually losing. Rather than resign, I stopped playing moves and let my clock run down until it reached zero and the arbiter formally declared a win for black. I was so bothered that I left the playing area immediately afterwards, checked out of the hotel, drove back to Dublin and caught an earlier flight home.
So I finished on 2.5/5, the same as in 2022, placed 11/22 which was another par result and a slight improvement on my starting rank. My opponents averaged 2084 so at least my rating benefited. Jonathan Pein did very well to win the event with 4.5/5, a point clear of Doluhanova in second (he beat her in round 2). He showed good technique to draw a difficult ending against Baburin in round 5 and guarantee first place.
My games, and indeed all the games from the event, are available online at https://lichess.org/broadcast/sligo-spring-tournament-2023-masters/round-1/bpa3Utiy.