Introduction
Streatham and Brixton Chess Club celebrated its 150th Anniversary in 2021/22 – culminating in an Anniversary Rapid Tournament in September 2022. You can read about our celebrations in our News and Games section - this includes the publication of Movers and Takers – a chess history of Streatham and Brixton 1871-2021
Movers and Takers is now sold out. But a downloadable version is available here
The material below may be read in conjunction with the full 150-year history told in detail in Movers and Takers.
A tale of two clubs
Streatham & Brixton Chess Club can claim to be one of London's oldest chess clubs with a history that goes back to Victorian times - although it started out as two clubs.
Brixton CC (originally called "Endeavour") was formed in 1870 or 71. It met initially in north Brixton, and was praised in one chess magazine for its "militant activity", playing 33 matches in one season. It won the Surrey Trophy in 1884/5, and the London League (of which it was a founder member) in 1897-8. It used various venues including Mr Muggeridge's residence at 138, Brixton Road; Brixton Liberal Association at 322, Brixton Road; Bon Marché, the Brixton Conservatoire of Music, and Raleigh Hall, all in central Brixton. From 1908/9, and then between the wars, it met at the Prince Regent Hotel, Dulwich Road, Herne Hill. Streatham CC started a bit later in about 1890, meeting in premises Queen's Parade, opposite Morrisons on the High Road. There is a record in the London Standard of 5 November 1894 of the two clubs playing each other (Brixton 2nd team won 5 v 3). The two clubs ran in parallel between the wars, with Streatham meeting in the White Lion, where we play friendly chess again nowadays.
The two clubs merged in 1946, and Streatham & Brixton Chess Club continued to meet at the White Lion until the mid 1950s when it moved to Streatham Baths. Later venues included the Bedford Park and Sultan pubs in Streatham and, more recently, the Priory Arms in Stockwell.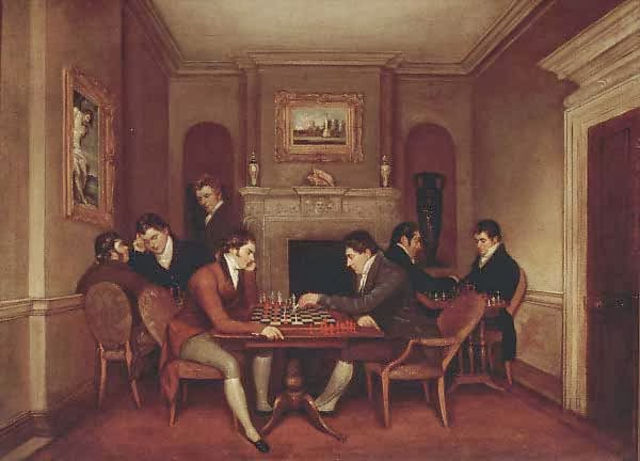 Portraits of the gentlemen of the Hereford Chess Society by Thomas Leeming,
exhibited at the Royal Academy in 1818 and the subject of a research project
by S&B club members.
Both clubs had their ups and downs. Brixton Chess Club was notably successful in the 1920s and early 1930s when it won the Surrey Trophy in five consecutive seasons and the Eastman Cup in its first three seasons. In 1930/31 it was the second largest club in the country. Around this time Harry Golombek, who went on to be British Chess Champion as well as writing many books on chess, was a member of Brixton Chess Club. A generation later, another future British Chess Champion was a member of our club – Ray Keene.
1970s resurgence
The club hit hard times in the late 1960s and early 1970s. But a remarkable resurgence followed, prompted partly by the Fischer-Spassky world title match of 1972, which generated a wave of enthusiasm for chess. An active junior programme attracted talented young players to the club, including Julian Hodgson and Daniel King who both went on to become grandmasters.
The club's fortunes peaked during the 1970s, driven by the energy and enthusiasm of Nigel Povah, Mike Singleton and others. In the 1976/77 the club won just about everything in sight, including the first divisions of both the London Chess League and the Surrey League. During this period the club produced three issues of the magazine Knightmare! which we have scanned and are available as downloads (see below).
After a fall-off in membership during the late 1990s and early 2000s, membership has recovered strongly and the club now has more than 60 active members.
Knightmare! downloads
PDF files of Knightmare! can be downloaded by clicking on the links below. Each issue has been split into four files which may take several minutes to download, depending on the speed of your broadband connection. Knightmare! 77 and 78 have been scanned at higher resolutions than Knightmare! 79 and will be slower to download.
Knightmare! 1977: part 1 - part 2 - part 3 - part 4.
Knightmare! 1978: part 1 - part 2 - part 3 - part 4
Knightmare! 1979: part 1 - part 2 - part 3 - part 4
More S&BCC History Discovered
In January 2016 the Povah-Best Trophy returned to the club – you can read about it here. Just a few months later, in March 2016, another bit of our history was also restored: copies of a club newsletter from 1966 to 1967. We are grateful to Martin Cath for their safe-keeping. It seems that, in the mists of time, a S&BCC secretary passed them to him, along with copies of an even more ancient publication "The London Chess Bulletin" on 1949 (of which more in the Appendix below).
Continue reading here